Resettlement Project – Knowsley Supported Lodgings
I've just been to see Ian at his new job, proudly standing outside Home Bargains in his uniform.  2 years ago Ian moved out of a placement with Knowsley Supported Lodgings into his own flat, aged just 19.  He was worried about how he would cope with the demands of his bills, cooking his own food, dealing with the letters and the landlord, it really was a lot to take on. Just before moving on Ian completed the Resettlement Passport, a pre-tenancy course written by the support workers at Local Solutions.  Frustrated with everything being black and white and drab, the group of support workers identified 10 areas, key to maintaining a tenancy, and created a colourful and interactive course around them.  9 Merseyside housing associations endorsed the course which has now been purchased by other organisations to use with clients who are living in hostels, leaving care, leaving prison or clients with mental health or learning disabilities.
Ian, far from just surviving in his tenancy has managed to complete an 'A'- Level in uniform services at Hugh Baird College and has now progressed onto getting a job – Congratulations Ian! It hasn't always been easy, but he's just kept going, answering his mail, paying his bills, applying for jobs and seeking out support when needed.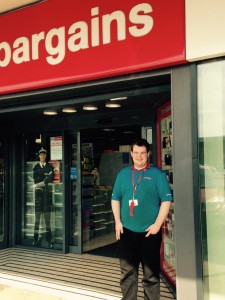 Over the summer, Ian took part in a focus group for people who had completed the course to help us develop an online version of the course.   They described the course as 'a powerful tool,' 'a comfort blanket,' 'it helped me stay on top of things,' 'it's made budgeting second nature now.'  Thanks to investment from First Ark, the online version of the course is now in development – making it even more creative and accessible to people of all ages, around the country.
Tenancy breakdowns have a huge impact on people's physical and mental health and their ability to engage with education and employment.  As well as this, they carry a huge financial cost to society – an estimated £26,000 per tenancy breakdown*.  The number of people being evicted from their homes has increased by almost 50% since housing benefit cuts were introduced four years ago**.  This unique, preventative tool is clearly timely, giving people the skills and confidence to manage their tenancies.  The main message of the course is that 'It is possible.' Ian has shown that through his hard work and determination.
To find out more about the course and using it with your clients, please contact Hannah  – hmccowen@localsolutions.org.uk or follow us on twitter @resettlementpp.
*Department for Communities and Local Government (2012) Evidence Review of the costs of homelessness
**Independent (2/9/15) http://www.independent.co.uk/news/uk/home-news/number-of-people-evicted-from-rented-homes-has-soared-since-housing-benefit-cuts-began-10454150.html
Other Inspiring Stories