"I have been working at Willowbrook charity shop in Page Moss since May, thanks to support from Sharon Dowell at Community Integrated Care and Lindsey Harrison at KCVS.
I have always wanted to do some work but didn't know how to go about it. With support I have been able to work one day a week which I love. Everyone in the shop is nice to me, and helpful and I look forward to going to work every week. It has helped my confidence a lot and makes me feel happy. I wish I could work there every day."
Lyn Doyle – Marston Gardens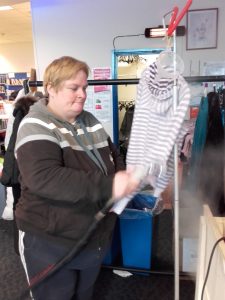 Knowsley CVS manages the accredited Knowsley Volunteer Centre providing links to organisations for those individuals who want to volunteer and support to voluntary, community, faith and social enterprises across the borough to develop volunteering programmes. Find out more here.
Funding Information Portal

Are you looking for the latest local, regional and national funding information for Merseyside's Voluntary, Community and Faith (VCF) sector.
Merseyside Funding Information Portal (MFIP) is supported by local voluntary sector infrastructure organisations across the region – including Knowsley.