Knowsley Community and Voluntary Service are delighted to announce, after a very difficult judging panel, the winners of the Knowsley Volunteers Week 2016 Awards!
Volunteer of the Year
1st Prize – Fran McCann, Knit Wits – who has won a A Day Out in Liverpool for two including a visit to The Tate, The Beatles Story and afternoon tea (including prosecco) at the Maritime Dining Rooms kindly donate
d by Morecroft LLP
Frances McCann, is the chairperson at Knit Wits. She works so hard running the group. They knit for the Neonatal unit at the Women's Hospital and donate the garments to the premature baby unit. They have 35+ members including some adults from social care, who are dropped off by minibus each week. Members support each other outside the group and great friendships have been formed. They pay subs and have days out too, Fran is the organiser and looks after them all. The majority of the members have suffered from mental and physical health problems and have spoken about how the group has helped them overcome many issues.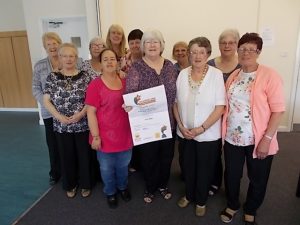 2nd Prize – Brenda Roscoe, St Gabriel's Church – who has won a 90 minute pamper package donated by Jodie Connor Holisitics.
I would like to nominate a member of St Gabriel's for a volunteer award. Brenda Roscoe, a retired nurse, has spent her retirement championing the needs of older people. She co-ordinates our lunch club, and under her watch it has expanded to around 100. She leads and recruits many volunteers and is well loved and respected. I wholeheartedly commend her to you. She will not thank me, she is incredibly humble, but she is extremely deserving of our community's recognition and thanks.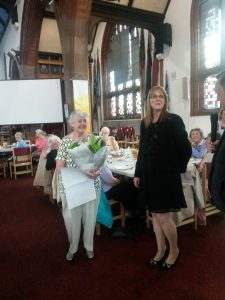 3rd Prize – Kerryann Corkery, Nugent Care – who has won £25 Liverpool One Voucher from monies donated b
y North West Housing
Kerryann started volunteering for Nugent care as a befriender in December 2014. She has supported several clients to access social groups in their local community helping to reduce their feelings of isolation and loneliness. Kerryann also helps build people's confidence and improve their mental wellbeing. Kerryann has herself experienced a number of health complications and as a result had lost her confidence. Her experiences allow Kerryann to empathise with clients and understand how to support them more effectively. She has commented "she feels she is getting more from the volunteering than she is giving.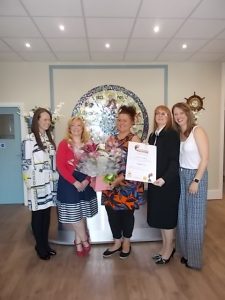 4th Prize – Margaret Pickthaw, Beanstalk – who has won a Barber Haircut donated by Rogues and Rasc
als of Prescot.
Margaret Pickthall has volunteered with Beanstalk for 10 years and is our longest serving volunteer for Knowsley. Margaret has supported 30 children who are struggling with their reading in school. Margaret is a role model to our less experienced volunteers and can always be relied upon to offer advice and guidance to others. We are very lucky to have her as part of our volunteer team.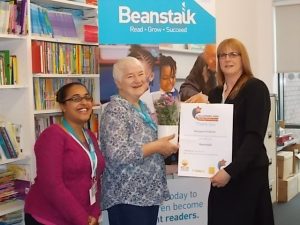 Young Volunteer of the Year
1st Prize – Lauren Curry, Stroke Association – who has won a Jessie's Jewels, Prescot goody bag
Lauren has been volunteering with the Stroke Association for s
ix months. Volunteering at a communication support group for people with expressive and receptive aphasia. Lauren is taking on a 12 month set of challenges to raise funds for the Stroke Association and has already completed a 24-hour spinning class/a fire walk/and a cycle event travelling to France and back in 24 hours. Getting the events in local media has also massively helped to raise awareness of stroke and the impact it has on the survivor/their families and carers. Lauren goes above and beyond to support Stroke survivors in Knowsley.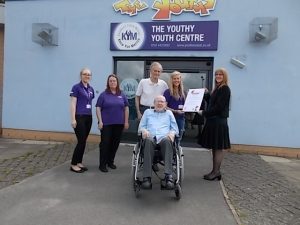 2nd Prize – Anna Doran who was nominated by the Brownies and St Mary's After School Club – who has won £25 Liverpool One Voucher from monies donated by North West Housing
I would like to nominate Anna Doran, for the help she gives with the 2nd Halewood Brownies. She is quick to notice if a particular girl needs assistance with a task. She is willing to help in any way and all the Brownie leaders value her contribution enormously.

I would like to nominate Anna Doran, she is twelve years old and helps each week at our After School Club at St. Mary's in Halewood. She comes and joins us straight from school, takes off her school blazer roles up her sleeves and gets on with the job! She has herself developed a pastoral role, the children ask after her, she looks after and makes new children feel welcome, she will take care of them if they are upset or need to be cared for. She is a leader's ideal supporter and we miss her if she has a week off, which is very seldom.
3rd Prize– Joshua Speakman, Friends of Bowring Park – who has won a Barber Haircut from Rog
ues and Rascals
Joshua has been volunteering with FoBP for 5 years since he was 12. Joshua regularly helps out at our cultural, our Annual Gala Day and other events, helping serve teas, coffees and cake and wash the dishes. He was invited to be our Junior Committee Member, when he was 15. It is enlightening to have a younger volunteer on board who encourages his friends to attend events such as Picnic and Music in the Park.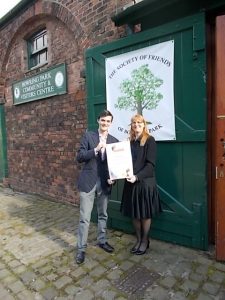 Trophy for Employer Sponsored Volunteering
A new award for 2016 to encourage the many commercial/private sector organisations who do great work with the local community to tell us about it. One entry this year stood out because it involved so many organisations working together for a short term gain in the community and to lay some important foundations for a longer term impact with y
oung people.
The award for 2016 goes to Northwood Community Primary School, Kirkby and their various supporters Centre 63, St Modwens, Can Cook, Comics Youth, Lloyds and Halifax Banks, Red Security Services, Home and Bargain, and Business in the Community
Activity included a mass litter pick in Newtown Gardens & surrounding area of Kirkby Town and an art work comic focussed on towards the eradication of litter in the town.
It was a wonderful local event and I'm proud as punch of the kids and the local support they have encouraged. The support continues and we need more like this!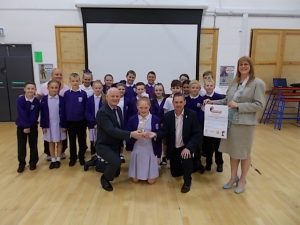 Many congratulations to all the nominees and winners, there truly are some wonderful people in Knowsley!